Earth Friendly Concrete® is thrilled to have received a high commendation in the Innovation Award section for Sustainable Products and Services from Cement Concrete & Aggregates Australia (CCAA) and the Industry Impact Award from the Infrastructure Sustainability Council (ISC).
We received both of these awards at the Infrastructure Sustainability Council (ISC) and Cement, Concrete, & Aggregates Australia (CCAA) annual award events held recently.
The ISC Awards exemplify excellence in sustainability across environmental, social, governance, and economic quadruple bottom line outcomes and outstanding contributions to market transformation at organisational, systemic, and societal levels. Earth Friendly Concrete® (EFC) was presented the industry impact award for our ultra-low carbon technology, which enables concrete producers to eliminate cement from concrete, thereby reducing the carbon footprint in the built environment.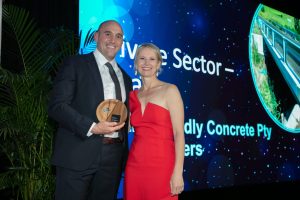 Wagners EFC® Chief Commercial Officer, Jason Zafiriadis, stated, "This is a great recognition of all the innovation and hard work from the EFC team over the years!"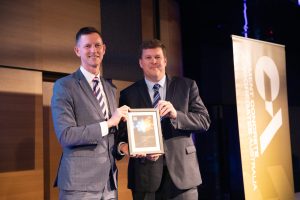 The CCAA innovation awards recognise innovation in the way our industry manages key issues, in support of safe and sustainable workforces, sustainable products and services, and long term industry sustainability. Earth Friendly Concrete® was presented the Highly Commended award in the Sustainable Products and Services category for the Gold Coast Wonder Reef entry.
Contact us if you would like to incorporate Earth Friendly Concrete® into your next project